A while back I posted a picture of my desk/work area. At the time I had intended to go back and add notes about what some of the stuff I have hanging on my walls is, but put it off and forgot about it. Since its been so long I decided to give this its own post rather than just updating the old one.

Just for reference, here is the original picture I posted of my workspace:

(Click image for larger size)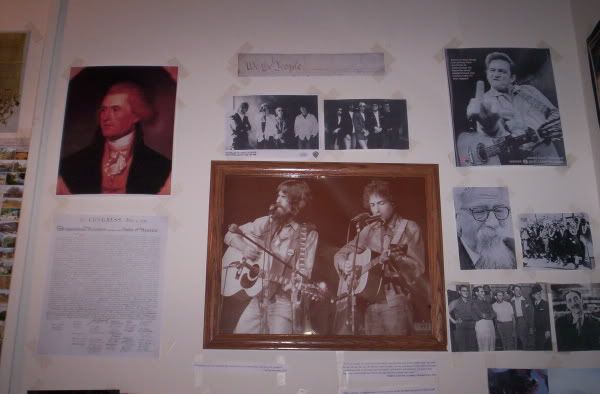 This is the area directly above my desk. Starting in the upper right hand corner and moving clockwise we have Johnny Cash, Rabbi Abraham Joshua Heschel, a picture of Rabbi Heschel marching with MLK, the 5 Marx Brothers (Zeppo, Groucho, Chico, Gummo and Harpo) out of costume, and Groucho Marx. In the center is a framed picture of George Harrison and Bob Dylan from George's Concert for Bangladesh. Continuing clockwise is a copy of the U.S. Declaration of Indipendence, Thomas Jefferson, the preamble to the U.S. Constitution, and two pictures of the Traveling Wilburys.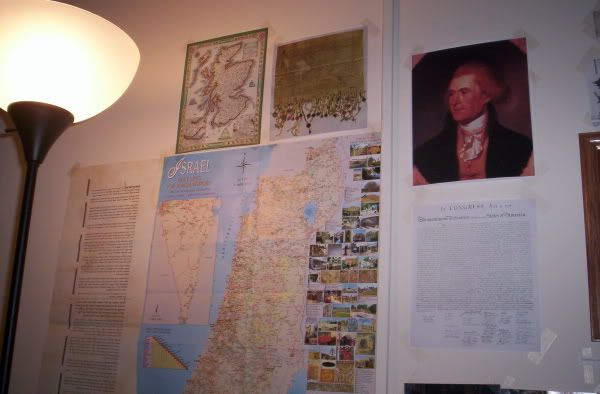 This is just to the left of the last picture. The big map is of the State of Israel. Next to that is the Israeli Declaration of Indipendence. Above that is a Clan Map of Scotland and the Scottish Declaration of Abroath.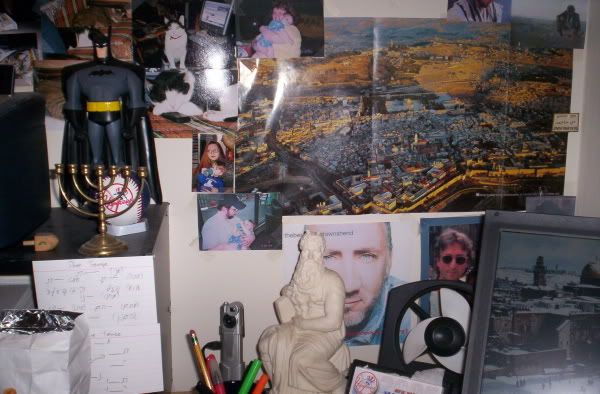 This is just below the first picture. The large picture in the center is of Jerusalem, with the Temple Mount in the center. On the upper right are two pictures of Dylan in Israel (one of him wearing Tefillin at his son's Bar Mitzvah and one of him on the Mountain of Olives). The pictures on the left are of my cats, my Fiance and our nephew, her sister and the same nephew and me with the same nephew. On the printer stand is a 10" Batman figure, a menorah (not a hannukiah) and a Yankees baseball. On the desk is a miniature replica of Michaelangelo's Moses. Behind Moses is Pete Townshend and John Lennon.



This one is to the right of the desk. Behind the laptop are various maps of Israel (modern and ancient, though you can't see all of them in this picture). On the wall are charts of the Hebrew, Proto-Hebrew, Phoenician, Ugaritic and Greek alphabets. Below the charts are maps of ancient Jerusalem. To the right of the Jerusalem maps are maps of the Ancient Near East.



This is above the last one. Starting in the top left corner and moving right is Lou Gehrig and Babe Ruth, Mickey Mantle, the 2004 Yankees, Lord Byron and an autographed Kinky Friedman for Governor bumpersticker. Below Byron is an autographed picture of Adam West. Below Lou and Babe are Mark Twain and a small MC Escher print.