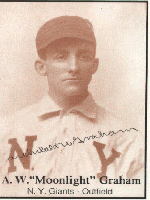 One hundred years ago today, on
29 June 1905
, the
New York Giants
played the Brooklyn Superbas (later known as the
Dodgers
) and won 11-1. Playing in what was his first and last major league game was
Archibald Wright "Moonlight" Graham
. He played in the outfield, had no at bats and likely never touched the ball. He would later be sent back down to the minor leages and eventually left baseball alltogether to return to medical school.
Many decades later author
WP Kinsella
would run across Moonlight's entry while flipping through the
Baseball Encyclopedia
. His eye would catch on the one line entry full of zeros:
Moonlight Graham

Hitting Statistics

Team

G

AB

R

H

2B

3B

HR

RBI

BB

IBB

SO

SH

SF

HBP

GIDP

AVG

OBP

SLG

1905 Giants

1

0

0

0

0

0

0

0

0

-

-

0

-

0

-

.000

.000

.000

Career

G

AB

R

H

2B

3B

HR

RBI

BB

IBB

SO

SH

SF

HBP

GIDP

AVG

OBP

SLG

1 Year

1

0

0

0

0

0

0

0

0

-

-

0

-

0

-

.000

.000

.000
He would research Moonlight's life and later use him as a character in his masterpiece baseball novel
Shoeless Joe
, which was later made into the classic baseball film
Field of Dreams
.
Happy anniversary, Moonlight!
UPDATE:
In honor of Moonlight's anniversary, the Minnasota Twins held "Moonlight Graham Day" today. From
www.kare11.com
:
Veda Ponikvar is 85-year-old, but she remembers him well as the man who gave her an inoculation for scarlet fever. She was only a third grader at the time.





Archie Graham died in 1965 after executing a groundbreaking study of his patient's blood pressures. Ponikvar says the generous man, who bought countless blue hats for his wife Alicia, was ahead of his time in medicine.





"(He) believed in a wellness program back in 1916 and 17 when it was absolutely unheard of."





In the Hollywood film, the ghost of Moonlight Graham finally fulfills his dream. He gets to bat against a major league pitcher on Costner's Iowa field.





Wednesday, at the Metrodome, the real man was honored by the Minnesota Twins with "Moonlight Graham Day. Every fan at the game received a replica baseball card bearing the only picture known to exist of Moonlight Graham in a Giants uniform.





The picture has been guarded for decades by that former third grader he inoculated against scarlet fever. Ponikvar grew up to be a legend in her own right.





Veda Ponikvar published the Chisholm Free Press for 50 years. She has been one of the most influential Iron Rangers during those years. She remembers the man she always calls "Dr. Graham" as a kind, gentle, man who was generous to a fault and never mentioned his moment in the majors.





Wednesday, the Twins honored his generosity by donating $500 to a scholarship fund named in Moonlight's honor.





The old physician believed strongly in education. Ponikvar says he would have delighted in seeing two Chisholm children introduced as this year's scholarship winners. He would also have heard his name cheered by thousands, as his old patient and friend threw out the first pitch.





"I only wish," Ponikvar sighed as she gripped the baseball, "that he were living to be a part of the glory and euphoria that is just overwhelming this Metrodome in his honor. He really needs to be recognized for not only his time in athletics, but what he did as a doctor."





Ponikvar thinks the movie did Graham's memory justice. When Costner's character suggests to the old ghost that it was a tragedy that his diamond career lasted just five minutes, Graham replies "No. If I had only been a doctor for five minutes, that would have been a tragedy".





It was that Archibald Graham who was honored and remembered by the Twins and their fans on the 100th Anniversary of his major league appearance.
Topic:
baseball